Improve Movement, Improve Life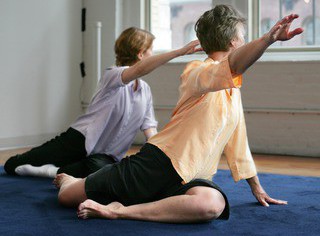 The Feldenkrais Method® was developed by the renowned movement educator, Judo master, author and physicist, Dr. Moshe Feldenkrais. His work has been used worldwide for over 60-years to improve recovery from physical and neurological injuries, increase learning ability, and enhance athletic performance. Feldenkrais' mastery of Judo gave him a deep understanding of how to move powerfully and gracefully, while maintaining balance and presence. He combined this understanding with keen observations of the developmental process infants go through in order to learn how to control their movements, stand and walk. How we learn, how we can change, and how we can develop our potential, is the essence of his work.
"The aim [of the Feldenkrais Method] is a person that is organized to move with minimum effort and maximum efficiency, not through muscular strength, but through increased consciousness of how movement works."-Moshe Feldenkrais, PhD
GENERAL BENEFITS:
Feldenkrais sessions can help you become more flexible, balance better, walk easier, and reduce chronic pain, as well as producing a feeling of calm and self harmony. A private Feldenkrais session usually combines hands-on support and guidance with verbally directed movement lessons tailored to your specific needs. Enhancing you kinesthetic  awareness, your ability to feel or sense how you use your body, is an important part of the session. This 'awareness' creates inner body knowledge that helps you recognize how you may be limiting your potential, and becomes a stepping stone towards learning healthier, more functional, and more graceful alternatives.
SPECIAL APPLICATIONS:
Back Care: Learn what you need to know about recovering from back injury, reducing chronic pain, and preventing re-injury.  Discover the best ways to safely increase strength, flexibility, posture. Learn to lift properly and move more efficiently to return to normal activity.
Fall Prevention/Improving Balance: Sharpen your balance reactions and develop the strength and flexibility needed to improve balance and prevent falls. Learn how to protect yourself if you do fall. Increase confidence and reduce the fear of falling so you can do more of the things you want to do.
Easy Walking: Walking is rhythm and flow in action and one of the best things you can do for your health. Easy walking consultations can help you find your natural stride and re-discover the joy and ease in walking. If requested, sessions may include training in how to use Trekking Poles for fitness and safety.
Parkinson's: The Feldenkrais Method® offers persons with Parkinson's Disease a way to learn and implement action patterns that can improve functional abilities. For more information, please read my article: The Feldenkrais Method®&  Parkinson's Disease-Ernie Adams
Multiple Sclerosis: With Feldenkrais®  you learn to move smarter, conserve energy, relax more deeply, and develop an inner adviser that lets you know when you need to rest or change how you are doing something. For more information, please read my article: Feldenkrais® & MS:  Discovering Movement Pathways-Ernie Adams
VIDEO OF EXERCISES & NOTES ARE PROVIDED TO CLIENTS to help them remember what they did during a session and be able to work with the exercises at home.
Articles by Ernie Adams:
The Feldenkrais Method & Parkinson's Disease (2014)
The Feldenkrais Method and Multiple Sclerosis (2002)
More Information About Feldenkrais Somatic Education:
Links to studios & wellness centers sponsoring my work:
Mind Body Dojo, El Cerrito
Albany Community Center, Albany
Healthwell Physical Therapy Group, San Francisco
FEES: If you are financially distressed please ask about discounts.
Single Session: $100 (60-minute session)
Pre-paid 10 Sessions: $900 ($100 discount)
Fees are non-refundable, yet transferable with authorization.
Cancellation Policy: Minimum 24-hours notice or 50% charge applied.
Credit Card or PayPal:
REGISTRATION:
Please use Check, Cash or Venmo to avoid processing fees.
–Credit Card: See 'BUY NOW' button below
–Venmo: Use Venmo app on phone: search for @Ernest-Adams-16 (indicate 'payment between friends)
–Check: Pay to Ernie Adams, 1655 San Benito St., Richmond CA 94804

LOCATION: El Cerrito